PORT at the Science Festival
Science counts! It's the motto of this year's Lower Silesian Science Festival. Łukasiewicz – PORT joined this event once again. Registration has already started!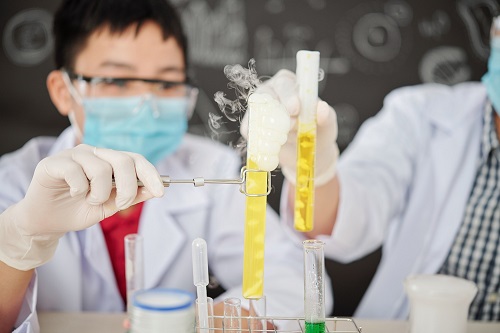 The Lower Silesian Science Festival is a popular scientific event aimed at presenting scientific achievements in an attractive and understandable form for the general public. This year, for the 25th time, universities, scientific and research institutes, and numerous educational and cultural institutions will invite residents of Wrocław and other Lower Silesia cities to participate in lectures, shows, workshops, and trips.
For this occasion, PORT Technology Education Center – Gardens of Experiences in Łukasiewicz – PORT prepared a program of educational activities for the younger part of the festival audience. On September 19 and 20, we will invite school-age children to workshops at our Institute.
– "Snakes in the Rain" is a class for the youngest primary school students (grades 0-3). Their participants will learn about chemicals, the proper combination of which allows them to create fanciful, spiral structures resembling snakes. They will also find out if the rain can be colored. Classes will take place on September 19, 2022, from 9 a.m.-10 a.m. and 11 a.m.-noon. The number of participants: 30 for each workshop.
– "Types of bioplastics" is a workshop for students in grades 4-8. Participants of the classes will independently make various types of bioplastics and learn about their composition and properties, especially biodegradability. They will also know how important it is for the environment to use alternative, safe types of plastics. The workshop will take place on Tuesday, September 20, 2022, from 9 a.m.-10 a.m. (for students in grades 4-6, the number of participants: 30) and 11 a.m.-noon (for students in grades 7-8, the number of participants: 15).
Note: we accept applications for the workshops at the e-mail address: ogrody.doswiadczen@port.lukasiewicz.gov.pl on September 5-13, 2022.
Feel invited!