RT-PCR tests
Łukasiewicz – PORT carries out diagnostic tests for the SARS-CoV-2 virus (known as coronavirus). It is possible thanks to our resources, which include high-class equipment, infrastructure necessary for laboratory diagnostics, high safety standards, a team of qualified and experienced laboratory employees, including diagnosticians.
Medical Diagnostic Laboratory Łukasiewicz – PORT in Wroclaw performs RT-qPCR genetic tests and antigen tests as part of COVID-19 diagnostics.
RT-PCR tests, thanks to an ultra-sensitive method of isolation and reproduction of specific DNA fragments, detect the presence of SARS-CoV-2 virus genetic material in the test sample.
RT-PCR tests are considered the gold standard in the diagnosis of SARS-CoV-2 virus infection. They show high efficiency (98%), and in order to perform them, a small amount of material collected from the patient in the form of nasopharyngeal swab is enough.
In May 2020, the Medical Diagnostic Laboratory Łukasiewicz – PORT was entered on the Ministry of Health nationwide list of COVID-19 laboratories.
We collect swabs and perform tests as part of commercial orders for individuals, institutions and enterprises.
The Łukasiewicz – PORT diagnostic laboratory is also authorized to carry out tests for the presence of COVID-19 under the national Entry System which are reimbursed from the funds of the National Health Fund.
Depending on the selected offer, we issue the test result up to 36h.
More information about the SARS-CoV-2 virus and the principles of COVID-19 prevention and treatment can be found on the World Health Organization (WHO) and the State Sanitary Inspection websites.
How to prepare for the test?
Samples for the RT-PCR tests are taken at 147 Stabłowicka Street in Wrocław (Pracze Campus).It is necessary to make an appointment in advance. For this purpose, please, contact us by e-mail at zapytania@port.lukasiewicz.gov.pl or by phone at +48 510 131 925. We will prepare an individual an individual offer for you.
NOTICE PLEASE: the entrance to the premises of the Łukasiewicz – PORT Institute is closed with a barrier. If you want to get to the laboratory, please ring the intercom and inform the gatekeeper of the purpose of your visit (COVID-19 test).
The person being swabbed must have:
identity card – the document necessary for the identification of the data,
mask.
Before arrival, rinse your mouth with boiled water and do not eat at least 2-3 hours before taking the swab.
How RT-PCR is conducted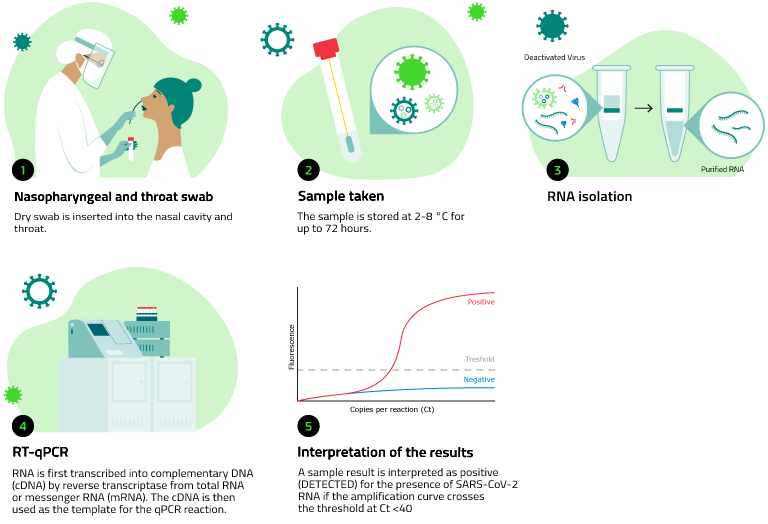 Contact us
To obtain an individual offer for RT-PCR tests, please, contact us:
phone: + 48 510 131 925
e-mail: zapytania@port.lukasiewicz.gov.pl