PORT for Health: Oncology. Registration starts!
Registration for the international conference PORT for Health: Oncology 2022 starts! After the success of last year's edition dedicated to neurobiology, this year Łukasiewicz – PORT invites you to a meeting focused on cancer biology and therapies. The conference date is 28th-30th of September 2022.
The international conference PORT for Health: Oncology 2022, organized by the Life Sciences and Biotechnology Center of Łukasiewicz – PORT will be dedicated to oncology. The program consists of three main themes: the biological basis of cancer, precise therapies, and diagnostics in oncology. Lectures will be held by eminent specialists representing the best research and development centers in Europe and United States. A satellite session Towards Excellence in Biobanking (28th of September 2022) will accompany the conference.
PORT for Health: Oncology 2022 will have a hybrid form. Participants will listen to more than 20 live-streamed lectures and attend discussions. For a conference program and a list of invited speakers, go to the conference website.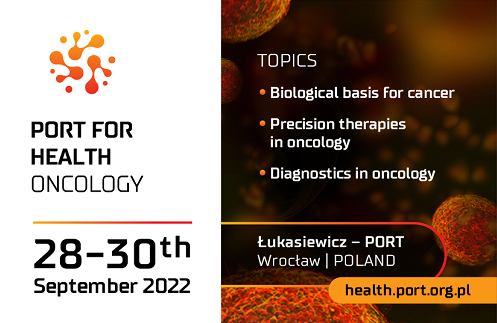 The organizing committee members are:
Michał Malewicz, Ph.D. – director of the Life Science and Biotechnology Center, leader of the Genome Dynamics Research Group,
Patrycja Gazińska, Ph.D. – senior leader of the Biobank Research Group,
Grzegorz Chodaczek, Ph.D. – head of the Bioimaging Laboratory.
PORT for Health: Oncology 2022 is the second edition of the PORT for Health conferences series that are devoted to significant issues in biological sciences and medicine. The meetings bring together scientists, medical practitioners and pharmaceutical industry representatives to jointly discuss key topics in modern biomedical sciences and crucial for human health. At the center of the discussion are, among others, basic molecular mechanisms and the development of human disease models, the search for new drugs, and the possibility of innovative targeted therapies in personalized medicine. This year, the subject of the conference is oncology, and the coming year – will be again the neurology/neurobiology.
The conference is held in English.
Registration is open until the 27th of September 2022. The registration fee is PLN 99.
The registration form is available here.