The ATAM 2022 Symposium come to the end 
Four days, over 40 speakers, incl. from Canada, France, the Netherlands, and Spain, meetings, discussions, and talks. Symposium on Advanced Technologies and Materials /ATAM 2022/ 6-9.09.2022 has come to an end.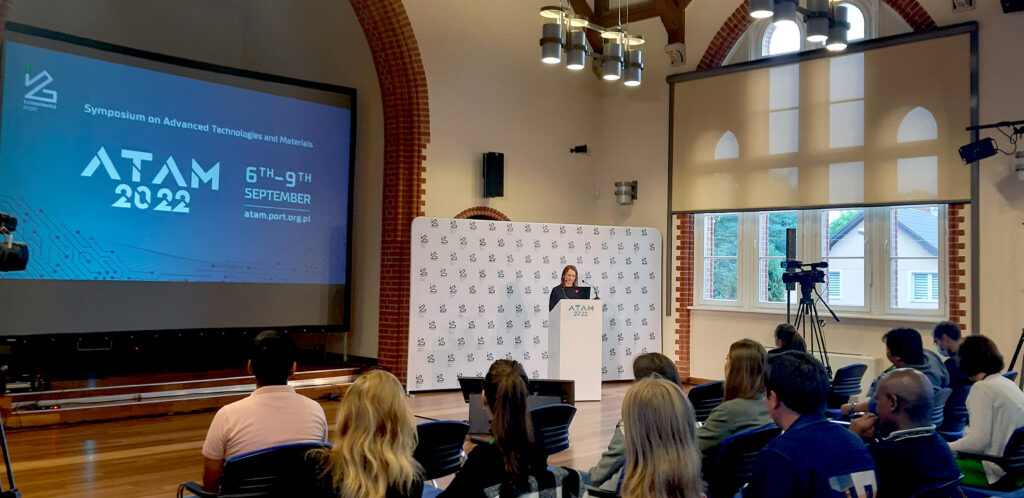 The conference was dedicated to hybrid and photonic materials, 2D coatings, polymers, and perovskites. Invited lectures were held by outstanding scientists, including prof. Makhsud Saidaminov (the University of Victoria in Canada), prof. Richard Hoogenboom (University of Ghent, Belgium), prof. Feng Zhou (Lanzhou Institute of Chemical Physics, Chinese Academy of Sciences, China), prof. Catarina Esteves (Eindhoven University of Technology, Netherlands), prof. Kheirreddine Lebbou (Claude Bernard University Lyon1, France), prof. Maurizio Ferrari (IFN-CNR Trento, Italy), prof. Gerd Meyer (University of Cologne, Germany and KTH Royal Institute of Technology, Stockholm, Sweden), prof. Miłosz Pawlicki (Faculty of Chemistry, Jagiellonian University), dr Beatriz Martín-García (CIC nanoGUNE, Spain), dr Daniele Cortecchia (IIT Milan, University of Bologna, Italy), dr Dominik Kubicki (Department of Physics at the University of Warwick), and dr Filip Granek (XTPL Wrocław).
A special section was dedicated to young scientists. Its element was a poster session in the unique speed dating formula. The conference was held in a hybrid formula – all lectures and talks were broadcast online. Every day, several dozen people participated in lectures and presentations in the auditorium, and about a hundred people in the online broadcasts. More information about the event you can find on ATAM 2022 website.
The organization of the conference was co-funded under the project: "Establishment and development of a Competence Center for Natural Strategic Resources. Adaptation of the existing research infrastructure and retrofitting with specialist equipment" co-financed by the European Regional Development Fund under the Regional Operational Program of the Lower Silesian Voivodeship 2014-2020.
See you in two years at ATAM 2024!