The new director of Łukasiewicz – PORT
Łukasiewicz – PORT Polish Center for Technology Development has a new director. On February 14, 2023, this position was taken over by Alicja Bachmatiuk, D.Sc., Ph.D., Eng. The previous director, Andrzej Dybczyński, Ph.D., was appointed president of the Łukasiewicz Research Network.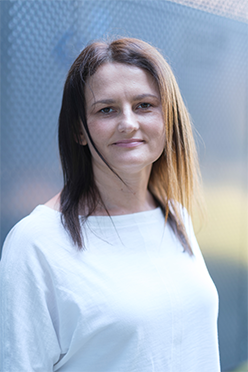 Alicja Bachmatiuk, D.Sc., Ph.D., Eng., has been associated with Łukasiewicz – PORT for over ten years as a scientist and manager. Since 2020 she has been an R&D director. From February 14, 2023, until her appointment to a new position, she will act as director of Łukasiewicz – PORT.
The new director of the Institute is an active scientist. Since 2013, he has been conducting research on the production and characterization of two-dimensional materials, including graphene, in cooperation with Polish and foreign research units. She obtained a postdoctoral degree in chemical sciences at the Warsaw University of Technology in 2017. She worked, among others, at IFW Dresden (Germany) as a scholarship holder of RTN Marie Curie and the Alexander von Humboldt Foundation (2009-2012) and as a Research Professor at Sungkyunkwan University, Suwon, South Korea (2013-2015). Since 2015, she has been a visiting professor at Soochow University, Suzhou, China. She is a laureate of the Minister of Education scholarship for outstanding young scientists (2016). In 2018, she received the award of the Prime Minister for her highly rated achievements, which were the basis for conferring the degree of doctor habilitated. She is the author of many scientific publications, and the manager of research grants financed by the National Science Center, Foundation for Polish Science, and the National Center for Research and Development.
– Entrusting me with the function of the director of Łukasiewicz – PORT is an honor for me and, simultaneously, a paramount obligation – says dr hab. Eng. Alicja Bachmatiuk, active director of Łukasiewicz – PORT. – Thank you for your trust. I assure you that I will do my best to continue the development of our Institute as a resilient, international research and development center and to consistently achieve the goals we have set for ourselves for years – she adds.
The main direction of Łukasiewicz – PORT activity is the creation and development of new technologies for the needs of the industry. The scientific and research activity of the center is focused on materials engineering and biotechnology, and research is conducted by groups concentrated in three centers: Materials Engineering, Life Sciences and Biotechnology, and Population Diagnostics. Every year, international scientific conferences are held in Łukasiewicz – PORT, attended by outstanding specialists. The Wrocław-based Institute also acts as the Managing Entity in the Virtual Research Institute program, under which research on new cancer therapies is conducted by scientific teams selected through a competition.