Free COVID-19 tests
Need a COVID-19 test result? Now you can do it at Łukasiewicz – PORT sampling points for free. We invite you to participate in a CoVSens research project that aims to develop a new COVID-19 test.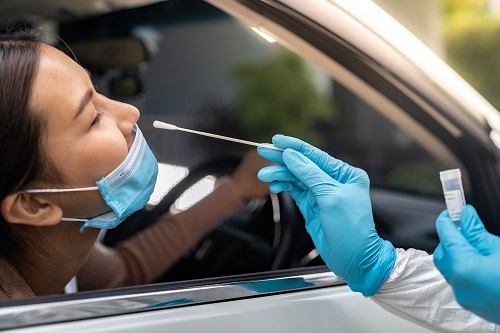 At the Łukasiewicz – PORT drive-thru points in Wrocław, patients can get the RT-PCR test for free. The only condition is that you agree to take additional nasal and throat swabs to be used in a research project. Two swabs will be examined with a standard RT-PCR test in our laboratory. Thanks to it, volunteers will receive a reliable result authorized by a laboratory diagnostician. The other swabs will allow for verification of the effectiveness of the new testing method. They will be used for research purposes only.
The CoVSens project is carried out by the Łukasiewicz – Institute of Microelectronics and Photonics team in cooperation with Łukasiewicz – PORT Polish Center for Technology Development and funded by the Medical Research Agency.
Only adults may take part in the project.
Advance registration is not required.
You will receive your result in Polish and English.
Free tests under the project will run until September 30, 2022, or until the number of samples required for the project is reached.
We invite you to our drive-thru points:
at the Pracze Campus (147 Stabłowicka Street), from Monday to Friday from 8 a.m. to noon,
at Wrocław Airport (190 Graniczna Street, car park B in front of the terminal), from Monday to Friday from 8 a.m. to noon and on Saturdays from 8 a.m. to 10 a.m.
Learn more about our RT-PCR tests.
Note! We kindly remind you that on August 15, 2022 (holiday), our test points will be closed.