PORT in Universiada competition
They changed the school's chemical laboratory into a modern laboratory in Łukasiewicz – PORT. Our Institute supports eighth-graders from Wrocław Active Little School participating in the Universiada competition. Members of the 5-person PolySens team carry out a research project under the supervision of Róża Szweda, Ph.D. Eng.
The leading theme of the competition is chemistry. The main goal of Universiada is to encourage the older grades of primary schools to develop creative thinking, acquire knowledge in many areas, develop skills of planning and conducting research, and then analyze them. Working on a joint project, participants train in the ability to cooperate in a group, organization, and time management. The organizer of the competition is the Omniveda Foundation.
The PolySens team is looking for a solution to the problem of long-term data retention. Students have an idea to develop new materials that will increase the density of information encoded in molecules. Soon they will conduct experiments that will verify their research hypothesis. The team's tutor is Róża Szweda, Ph.D. Eng., Leader of the Functional Macromolecules Research Team in Łukasiewicz – PORT.
– I am very impressed by the creativity of this group of young researchers who devised by themselves how to improve the technologies developed by the best research centers in the world. It is a unique and pleasant experience for me to work with the young generation. The kids see no limits in their imaginations, which is very inspiring – says Róża Szweda, Ph.D. Eng.
Currently, students from PolySens are working on a project presentation. They will compete for qualification to the finals and the opportunity to present the effects of their work during the Final Gala. The winners of the Universiada competition will be selected in June by professors of the University of Wrocław. Attractive prizes await the winners. Good luck!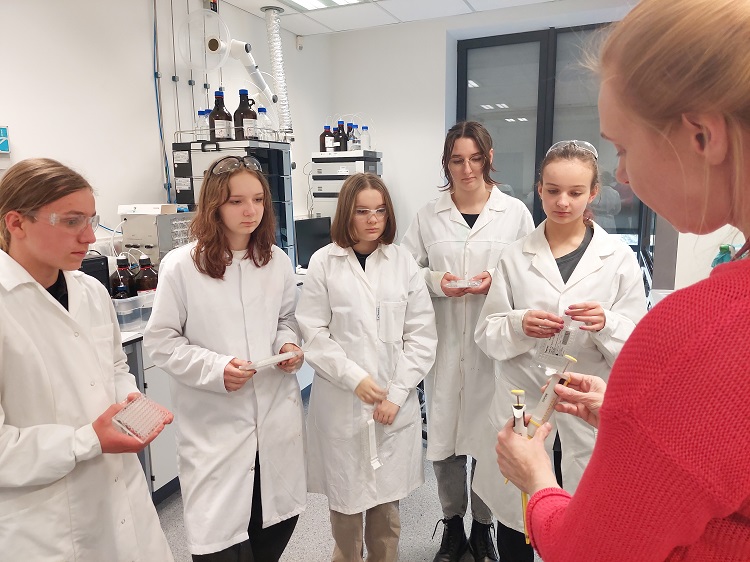 fot. Łukasiewicz – PORT