Genome Dynamics Group
Genome Dynamics Research Group conducts interdisciplinary research in the field of biological sciences, biotechnology and molecular medicine. The group's main areas of interest are DNA repair mechanisms, mutation fixation processes and evolution of the genome structure. The team is also working on understanding the basis of cancer development, with particular emphasis on the role of DNA repair processes, and the search for biomarkers and new candidates for innovative anti-cancer drugs.
Michał Malewicz, Ph.D., Director of Life Science and Biotechnology Center
I started my scientific work at the University of Warsaw defending master's degree in molecular biology that focused on genetics of RNA metabolism in yeast mitochondria. Thereafter I had joined the Karlsruhe Institute of Technology (Germany) as a Ph.D. student, where I had studied the function of immune system in genetically engineered mice. For my postdoctoral studies I have moved to Stockholm (Sweden) to work at the Ludwig Institute of Cancer Research (affiliated with Nobel Karolinska Institute), where I have developed new biochemical methods to study protein-protein interactions that succeeded in identifying NR4A nuclear orphan receptors as new proteins involved in mammalian DNA damage response. In 2012 I was appointed as an independent Group Leader at the MRC Toxicology Unit (United Kingdom) to build my first scientific group working on mechanisms of DNA repair. At the MRC Toxicology Unit my lab has discovered PAXX protein – a new factor involved in DNA repair pathway of NHEJ and later demonstrated that PAXX stimulates DNA repair by directing the activity of DNA polymerases at DNA lesions. In 2019 I moved back to Germany to work as the Head of Research and Drug Discovery at an early-stage biotech Genome Biologics, where I had directed the efforts of the research team working on novel heart organoid technology with the aim of developing in vitro system to study toxicity of new drug candidates. From the end of 2020 I am directing the Laboratory of Genome Dynamics (Łukasiewicz – PORT, Poland), where the mission of my group is to study the mechanisms of DNA damage responses and their connection to cancer development utilizing CRISPR/Base editing genome editing technologies and advanced models of disease such as iPSC-derived human organoids.
Paulina Wróbel (lab manager)

Joanna Machnik (technician)

Małgorzata Grudzień (post-doc)
Joanna Gluza (post-doc)
Paweł Gluza (post-doc)
Open positions available in the lab.
Join us: michal.malewicz@port.lukasiewicz.gov.pl
Our research focuses on understanding molecular mechanisms of DNA damage response (DDR) in mammalian cells. Defective DDR contributes to many human diseases including cancer. We use proteomics, gene knockout and genome engineering tools to identify new DDR proteins and their mode of action. We have a particular interest in studying mechanisms of repair for so-called double strand DNA breaks (DSBs) (Figure 1). We have identified key new proteins acting in DSB repair pathways (e.g. PAXX) (Figure 2). Our current studies will focus on finding novel links between DDR and human disease including rare disease and cancer.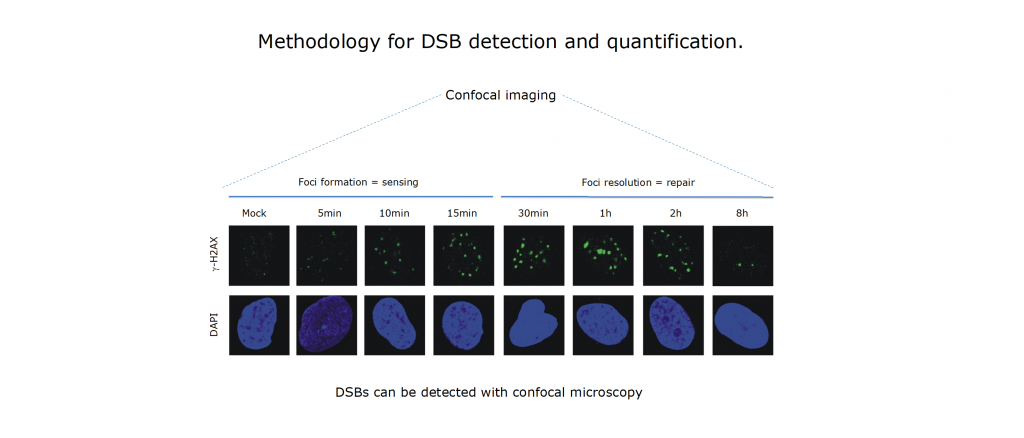 Figure 1. DSBs (in green) are marked by g-H2AX with DAPI nuclear counterstain. Min/h indicate time after exposure of cells to 1Gy of ionising radiation.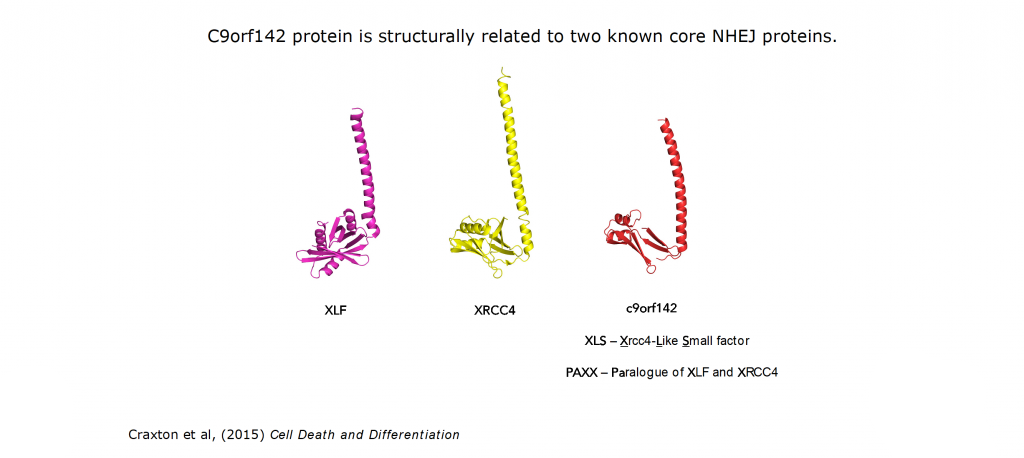 Figure 2. Comparison of crystal structures of XLF and XRCC4 against a computer model of PAXX/XLS (obtained with Phyre 2 algorithm).
CRISPR/Base editing
AAV
lentiviruses
iPS-based models
laser-induced micro-irradiation of life cells
organoids
Nicolai S, Mahen R, Raschellà G, Marini A, Pieraccioli M, Malewicz M, Venkitaraman AR, Melino G.
ZNF281 is recruited on DNA breaks to facilitate DNA repair by non-homologous end joining. Oncogene, (2020); 39(4):754-766
Skalka G, Hall H, Somers J, Bushell M, Willis A, Malewicz M.
Leucine Zipper and ICAT Domain Containing (LZIC) Protein Regulates Cell Cycle Transitions in Response to Ionizing Radiation. Cell Cycle, (2019);18(9):963-975
Munnur D, Somers J, Skalka G, Weston R, Jukes-Jones R, Bhogadia M, Dominguez C, Cain K, Ahel I and MALEWICZ M.
NR4A nuclear receptors target poly-ADP-ribosylated DNA-PKcs protein to promote DNA repair. Cell Reports, (2019); 26 (8): 2028-2036
Craxton A, Munnur D, Jukes-Jones R, Skalka G, Langlais C, Cain K and MALEWICZ M.
PAXX and its paralogs synergistically direct DNA Polymerase lamba activity in DNA repair. Nature Communications, (2018); 9:3877