A new program of educational workshops
How are the colors created? What is spherification? Is it possible to save the Earth from the flood of plastic waste? The answers to these and many other questions are waiting for young explorers in the Łukasiewicz – PORT laboratories. In January 2023, a new offer of the PORT Technological Education Center – Gardens of Experiences started. Reservation for free workshops for school and kindergarten groups is now possible.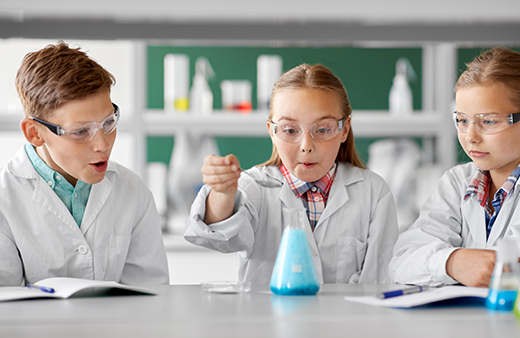 Topics of classes offered by the PORT Technological Education Center – Gardens of Experiences include chemistry, physics, biology, and ecology. Workshops take place in the educational laboratories of the institute equipped with professional equipment, reagents, and preparations. Young researchers solve scientific problems by conducting experiments and experiments on their own.
The new program includes proposals addressed to various age groups of recipients. It is five disparate themes for preschool children (from 5 years old), primary school students, and high school students.
The youngest researchers will learn the rules of combining colors, the secrets of liquids, the structure of the Earth, and volcanic phenomena. They will also construct their volcanoes and cause them to erupt. Older primary school students will discover., i.a., the scientific secrets of molecular gastronomy and unusual food processing methods. Youth from secondary schools will face the problem of environmental pollution with plastic. They will also take the challenge of solving a chemical crossword, i.e., recognizing – through chemical reactions – various substances contained in test tubes. Descriptions of each workshop you will find here.
Online registration for workshops from January to March 2023 is now possible. School and preschool groups of up to 15 to 30 people can apply. As part of the pilot edition, in the first quarter of 2023, classes are free of charge. The language of the workshops can be Polish, English, or Ukrainian. There are also plans to launch proposals for individual recipients.
Workshops available in the PORT Technological Education Center – Gardens of Experiences offer are held as part of the "Entry to the world of science" program co-financed by the Ministry of Education and Science.
At the same time, another edition of the "Light in Science" partnership program is underway, implemented by Łukasiewicz – PORT in cooperation with the Foundation of the Polish Center for Technology Development and OSRAM. The workshops are intended for high school students and focus on photonics and materials chemistry.
You are welcome!