Educational workshops
Entering the world of science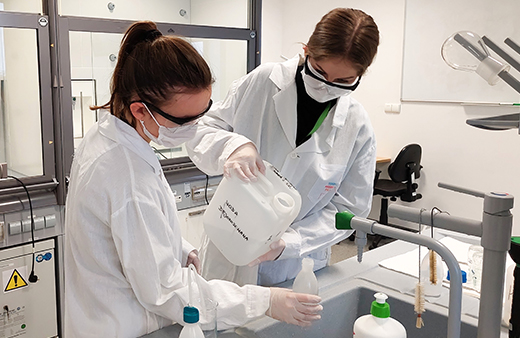 Safe plastic
Environmental pollution with plastic is one of the biggest problems of the modern world. The negative impact of traditional plastic on our planet has been felt for a long time. Can anything be done about it? One way is to use alternative, safe materials. Workshop participants will learn about different types of bioplastics, their composition and properties, especially those related to biodegradability. But first of all, the participants will be in the role of scientists and will independently make various biological plastics. Enriched with new knowledge, they will be able to contribute to the protection of the Earth more consciously.
Age group: 7th-8th grade primary school students and high school students
Number of participants: maximum 30 people
Workshop duration: 60 minutes
Liquid secrets
A great adventure awaits the participants of the workshop in the country of primary and secondary colors, learning the rules of their combination. Using laboratory glassware, participants will make colored foam that increases in volume. Why is this happening? How does hydrogen peroxide differ from ordinary tap water? Answers to these and other questions await in our laboratory!
Age group: 1th-5th grade primary school students
Number of participants: maximum 30 people
Workshop duration: 45 minutes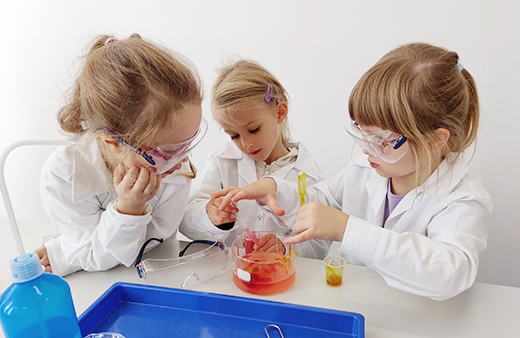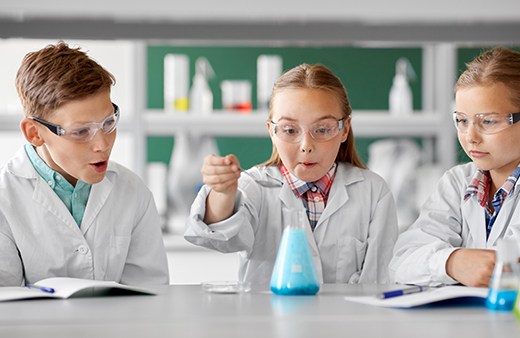 In the land of volcanoes
During the workshop, we will check what we know about volcanoes: which are active and which are dormant and whether we should be afraid of them. Young researchers will learn how the Earth is arranged. Can lava be cold? At the end of the workshop, each participant will build his own volcano and cause it to erupt. We will mix, add, experiment. Fun is guaranteed!
Age group:
– preschool children (from 5 years old)
– 1th-3th grade primary school students
Number of participants: maximum 30 people
Workshop duration: 45 minutes
Chemical crossword
The work of a scientist is sometimes like solving puzzles. Participants of the "Chemical сrossword" workshop will learn about it. The subject of the workshop are ionic reactions in aqueous solutions of acids, bases and salts. Young scientists will independently conduct analysis covering different types of reactions: namely precipitation and dissolution of sediments, evolution of gases, redox reactions and complexation. They will also independently identify several solutions of compounds obtained in test tubes (the so-called chemical crossword). Next, a real scientific challenge awaits them. Working in pairs, they will receive several test tubes containing chemicals. Knowing what these compounds are, they won't know which one is in which test tube. Their task will be to determine this by conducting chemical reactions and observing their results. Each reaction will be written in the form of a chemical equation, and the crossword solved in this way will be checked by the assistant conducting the workshop.
Age group: high school students
Number of participants: maximum 15 people
Workshop duration: 5 hours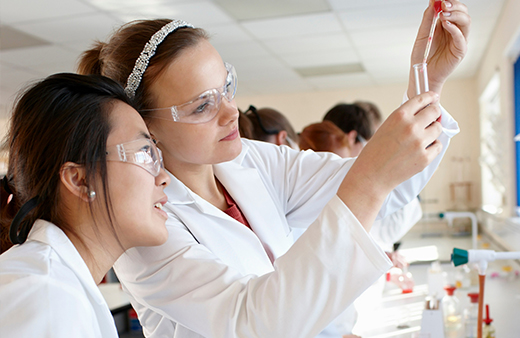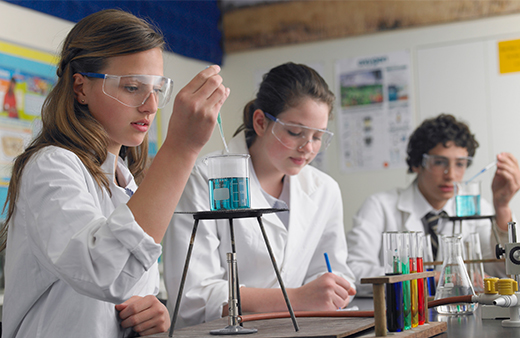 Kitchen laboratory
What is spherification? What is the scientific method and where can you find it? And most importantly, what does this have to do with food? Our workshop will answer these and other questions! Its participants will learn the principles of molecular gastronomy. Although name of this cuisine comes from molecules, i.e. particles. Dishes are prepared from natural ingredients, and their unusual appearance is due to uncommon methods of processing products. Young scientists, using the spherification technique, they will independently prepare "colored capsules", at the same time, they practice using various reagents and laboratory glassware.
Age group: 4th-8th grade primary school students
Number of participants: maximum 30 people
Workshop duration: 60 minutes

Partner program OSRAM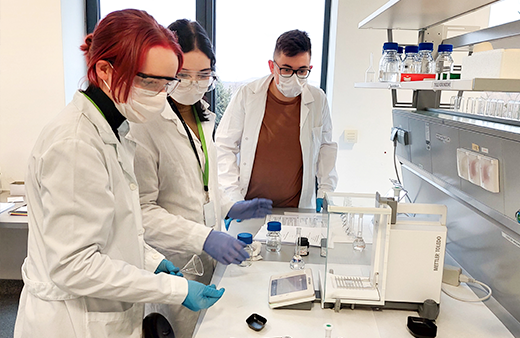 Light in science
"Light in science" are workshops based on solving scientific problems and independent experimentation. We invite high school students for an adventure with photonics and material chemistry!
Working under the supervision of experts from Łukasiewicz – PORT, young scientists will learn about the spectroscopic properties of luminescent materials and the construction of liquid crystal screens, as well as learn how a tomograph works. The synthesis of organic medicaments, including the independent preparation of aspirin, will allow them to understand how pharmaceutical substances are made and why the discovery of new medicaments is a great scientific challenge.
Workshops are conducted in a professionally equipped educational laboratory, and their participants carry out a real research process. Thanks to this, they get new experience and have the opportunity to see how the work of scientists around the world looks like.
The series of workshops "Light in science" is organized in cooperation with the Foundation of the Polish Center for Technology Development and OSRAM.
Age group: high school students
Number of participants: maximum 15 people
Workshop duration: 2×5 hours