Mechanisms of Neurodegeneration Group

In our research, we investigate the mechanisms of neurodegeneration. In particular, we are interested to understand how protein quality control fails in aged cells, making them prompt to neurodegenerative diseases. Building on this knowledge, we aim to identify novel treatment strategies to counteract these fatal diseases.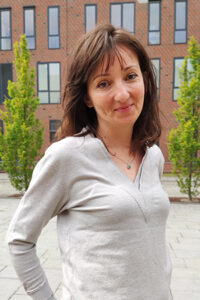 Agnieszka Krzyżosiak, Ph.D., principal investigator
Agnieszka accomplished her Ph.D. under the supervision of Dr. Wojciech Krężel and Prof. Piotr Dobryszycki through co-tutelle between Université de Strasbourg and the Wrocław University of Technology. Working at the Institut de Génétique et de Biologie Moléculaire et Cellulaire, she discovered the role of RXRg in mediating depressive-like behaviors and underlying molecular dysfunction of dopaminergic neurons. For her postdoc, Agnieszka joined the team of Dr. Anne Bertolotti at the MRC Laboratory of Molecular Biology, Cambridge, UK, where she was awarded an EMBO and HFSP long-term fellowship. In her research, she investigated the strategies to prevent protein misfolding in neurodegenerative disorders. This work revealed the first selective inhibitor of PPP1R15B phosphatase with a beneficial effect in ameliorating the symptoms of Huntington's disease. The discovery led to establishing of a startup CamPhos Therapeutics Ltd., where Agnieszka gained invaluable experience in commercializing the outcome of basic research. In 2022 she was awarded the SONATA BIS 11 grant from the National Science Centre to develop her research on the molecular mechanisms of neurodegeneration.
Lab members
Monika Danielewicz
Karolina Cierluk
Ewa Mazurkiewicz
Open positions available. If you are interested in joining our team, please contact us at: agnieszka.krzyzosiak@port.lukasiewicz.gov.pl.
Krzyzosiak A., Pitera A., Bertolotti A.
An Overview of Methods for Detecting eIF2α Phosphorylation and the Integrated Stress Response.
(2022) Methods Mol Biol. 2428:3-18.
Krzyzosiak A., Podlesny-Drabiniok A., Vaz B., Alvarez R., Rühl R., de Lera AR., Krezel W.
Vitamin A5/X controls stress-adaptation and prevents depressive-like behaviors in a mouse model of chronic stress. 
(2021) Neurobiol Stress. Aug 3;15:100375.
Krzyzosiak A., Sigurdardottir A., Luh L., Carrara M., Das I., Schneider K., and Bertolotti A.
Target-Based Discovery of an Inhibitor of the Regulatory Phosphatase PPP1R15B.
(2018) Cell. Aug 23; 174(5), 1216–1228
Niewiadomska-Cimicka A., Krzyżosiak A., Ye T., Podleśny-Drabiniok A., Dembélé D., Dollé P., Krężel W.
Genome-wide Analysis of RARβ Transcriptional Targets in Mouse Striatum Links Retinoic Acid Signaling with Huntington's Disease and Other Neurodegenerative Disorders. 
(2017) Mol Neurobiol. Jul;54(5):3859-3878.
Rühl R., Krzyżosiak A., Niewiadomska-Cimicka A., Rochel N., Szeles L., Vaz B., Wietrzych-Schindler M., Álvarez S., Szklenar M., Nagy L., de Lera AR., Krężel W.
9-cis-13,14-Dihydroretinoic Acid Is an Endogenous Retinoid Acting as RXR Ligand in Mice.
(2015) PLoS Genet. Jun 1;11(6):e1005213.
Das I., Krzyzosiak A., Schneider K., Wrabetz L., D'Antonio M., Barry N., Sigurdardottir A., Bertolotti A.
Preventing proteostasis diseases by selective inhibition of a phosphatase regulatory subunit. 
(2015) Science. Apr 10;348(6231):239-42.
Hanssum A., Zhong Z., Rousseau A., Krzyzosiak A., Sigurdardottir A., Bertolotti A.
An inducible chaperone adapts proteasome assembly to stress.
(2014) Mol Cell. Aug 21;55(4):566-77.
Krzyzosiak A., Szyszka-Niagolov M., Wietrzych M., Gobaille S., Muramatsu S., Krezel W.
Retinoid x receptor gamma control of affective behaviors involves dopaminergic signaling in mice.
(2010) Neuron. Jun 24,66(6):908-20.